01 March 2021
'Spring'spirational – Lamb Rump
---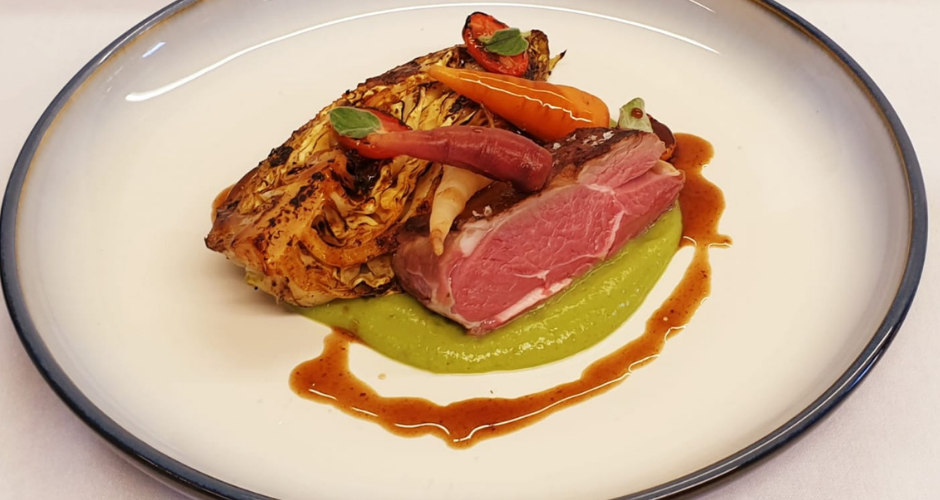 Our award winning Head Chef, Simon Hibberd, has yet again being creative during lockdown! This time he has created some beautiful spring dishes to feature in Lincolnshire Life Magazine.  Make sure you get yourself a copy to read about our wonderful county, Lincolnshire.
Today we are going to share one of his recipes which creates a lovely spring Lamb dish.
We can not wait to re-open and to welcome everyone back to Reform later this year. Hopefully we will be open in late May. In the meantime we are offering Mothers Day Meal Kits.
Lamb Rump, BBQ Spring Cabbage, Pea & Mint Puree, Orange Carrots & Tomatoes
Ingredients
x2 Lamb Rumps
x1 Hispi Cabbage
x12 Baby Carrots
x6 Cherry Tomatoes
300g peas
Sprig of Mint
x2 sprigs of Marjoram
x3 Cloves of Garlic
Butter
Olive Oil
Glass of Red Wine
1 Pint of Lamb Stock
1/2 Pint of Orange Juice
BBQ Seasoning

1 tsp Onion Powder
1 tsp Paprika
1 tsp Cayenne Pepper
1 tsp Salt
1 tsp Brown Sugar
Method
Pre-heat the oven to 200 degrees. Heat up an over proof saute pan. Add olive oil, a knob of butter, garlic, marjoram and the lamb. Colour the meat on all sides, roast in the oven for 12 minutes, and then leave to rest.
Boil peas and mint in slated water until soft. Puree the peas and mint in a food processor, adding some of the cooking water to make is a smooth consistency
Simmer the whole cabbage in salted water for 4 minutes. Drain and leave to cool. Once cooled, cut into quarters, season with the BBQ seasoning blend on the inner and grill.
Simmer baby carrots in the orange juice and a little salt and marjoram
Cut tomatoes in half, sprinkle with a little BBQ seasoning. Place under a low heated grill for 5-10 minutes, then top with some marjoram leaves.
In the lamb pan, reduce the red wine by 3/4 and then add the lamb stock. Reduce by 1/2 and sieve.